5 Steps You Should Follow to Introduce Time Tracking into Your Business
Several countries have mandated the implementation of employee time tracking for businesses. With the enforcement of these laws, many organizations may be coming in contact with a time tracking software for the first time.
Inevitably, the introduction of these employee time tracking applications may bring in several questions in the minds of your employees. As a business owner, these are the first questions you will need to answer.
Why should we use software to track time? Are we not being trusted? Are we being micromanaged?
You must highlight the benefits of time and attendance software to your employees before you have them use it. You should clarify that this system is not just to track time but also protects employee rights. Time tracking systems enable accurate calculation of the working hours and help to be paid by the number of hours they have spent.
Let's understand the importance of time tracking with a simple example. Consider a team of 15 professionals. Consider they bill out an average of $150 per hour. When you capture leaked revenue from emails and meetings, you may add another $1.75 million to the top line every year.
Therefore, on average, a 15 employee team is prone to lose $1.6 million every year due to the lack of an effective time tracking system.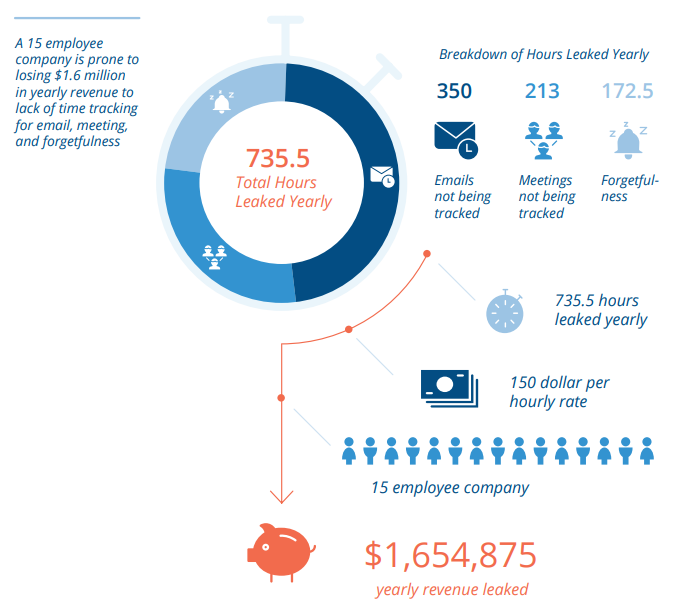 With this idea, check out a few ways you can effectively introduce a time tracking system in your organization to quell any fears your employees may have.
1.Highlight the Key Benefits
Your employees are your asset. You must keep up their morale. To attain this, you should clarify any misconceptions they may have about time tracking tools.
For example, your employees may feel that their privacy and freedom are being taken away. You should detail to them that using an employee hours' tracker helps to have a hold on the total number of working hours. It makes it easy to submit and get time cards approved.
Further, they can view their KPIs related to the timesheet submission, follow up on pending approvals, and check their time entries. These advantages will reassure your employees.
Also, you should explain that a time tracking system is not something sinister. It will help them and more so the management to have a hold on the amount of effort the employees have put into various tasks.
Employees should mutually respect the implementation of a tracking system. Without this, they may not use the time tracking system thereby resulting in a waste of resources.
2. Explain Its Role in Your Organization
Your employees may easily lose sight of the hours a task consumes. This may have serious repercussions on project budgets and also a decline in productivity.
However, when you use time-keeping software, you can view the number of hours spent on particular tasks. You may prioritize tasks based on their severity and remain updated about the time consumed by every task.
You should elaborate on the advantages of introducing a time tracking system. The absence of clear information may breed distrust. However, transparency of motives and benefits will make your employees feel secure and receptive to embrace the time tracking system.
3. Ensure User-Friendliness of the Tool
Though there are numerous time tracking tools available in the market, ArcTimeTracker, Archarina is one of the most sought application. This time tracking application comes with several features that are important for both you and your employees. The figure below represents the home page of this application.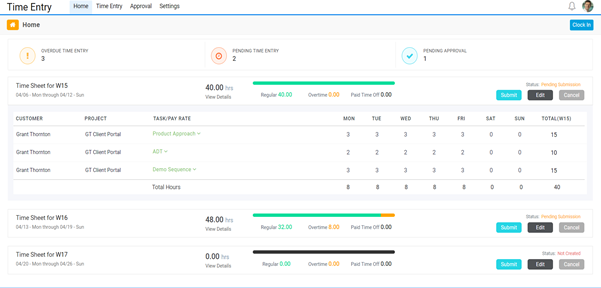 For example, the application helps the categorization of the total number of hours corresponding to the tasks. The timesheet management system helps record the start and end dates of particular tasks. Furthermore, it allows the calculation of average hours spent on a task on every day or weekly basis. It comes with the capability to let your employees easily submit time cards or PTOs over a unified and easy-to-use interface.
On the other hand, supervisors are allowed to make bulk approvals or reject submissions based on the timings clocked in. This cloud-based time tracking system offers thorough visibility into the hours clocked in by your employees and particular time spent on tasks.
However, though the software comes with several state-of-the-art features, it does not invade the privacy of your employees. Also, this interface is a comprehensive and user-friendly one that can be used by employees with zero technical help.
If you are researching time tracking tools for your organization and find them saving candid screenshots or capturing your employee's browsing history, it is best to steer clear of them. You should understand that it is cardinal to choose the right one for your business.
4.Clarify Concerns
Ensure that your employees do not take time tracking negatively. Therefore, interact with them and clarify your intentions. Talk to your team and help them understand the benefits of a time tracking system. Don't simply elaborate on its benefits for your management but also for them.
These benefits may include (but not limited to) the following:
Fair work allocation
Regulated overtime
Timely identification of workflow inefficiencies
Transparency on project progress
To top all these, cloud-based time-tracking systems are accessible from anywhere across the globe. Your employees can work from anywhere and still enter their timesheets on time. This is especially a benefit if you have a distributed workforce or maintain a remote working ecosystem on account of the ongoing pandemic. After all, the convenience and safety of your employees are critical aspects that will pay off in the long run.
5.Test, Train, and Implement
The best way to gauge the suitability of your time tracking system for your employees is to test it. Before you perform this testing on your employees, use it yourself to find if there is a learning curve. Look for aspects like how easily are you able to navigate through the interface? Will your employees need any particular training to use the application?
Run a pilot with a small pool of employees. Ask for their feedback and inputs. Make sure they feel comfortable with it before implementing it across your team/organization.
Wrap Up
Though time tracking systems come with their own set of benefits, it may not be a cup of coffee for all. It is normal for your employees to feel overwhelmed when asked to use an online time tracker. Ensure that you interact with your team and implement systematic steps before you ask your employees to use the time tracking software.
If you need any further clarifications about ArcTimeTracker or any other Archarina products, feel free to reach out to us!